Twister Nut with Spanner for CNC Router Dust Extracting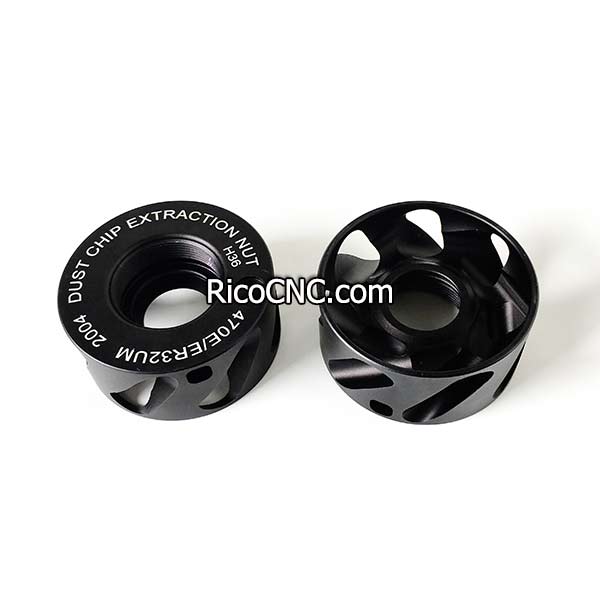 The twister nut is a high-performance dust and chip extraction tool. This CNC dust nut replaces the standard nut on your CNC tool holders [HSK63F or ISO30 or BT30], twister tightens collets into the chuck clamping down on the router bit.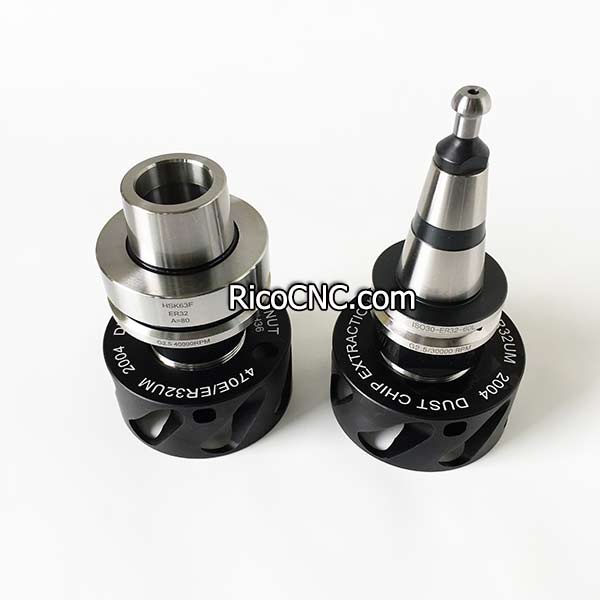 Dust and extractor tool will help evacuate both dust and chips during nesting and conventional CNC routing operations. It improves extraction performance and increasing the particle airflow into your extraction system on your CNC router, especially works well with MDF.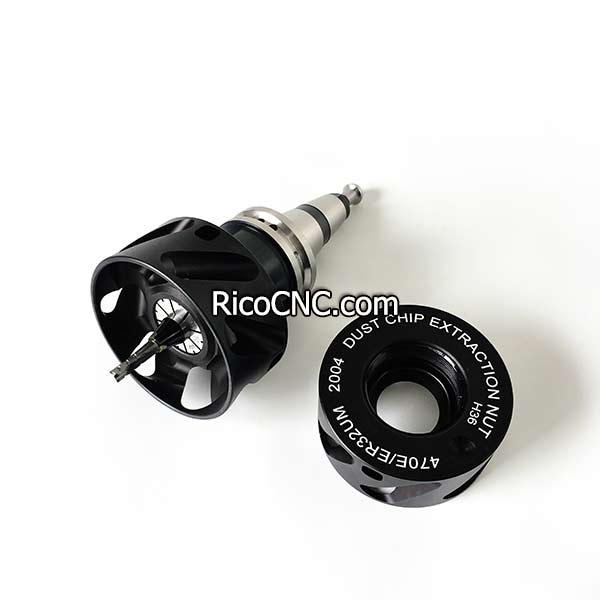 The nut works best when situated between 2 and 3mm above the material. When rotating at high speeds the twister creates a powerful vacuum drawing chips and dust off the surface of the material and directly into your extraction system.
Remove dust and chips effectively also allows you to cut cooler. This will not only extend tool life but produce a finer finish.
A dust extraction collet nut can help facilitate removing dust out of the cutting flutes so the tool does not overheat and is not re-cutting chips.
Easy to assemble directly on the collet chuck instead of the standard nut, also provides a big improvement of dust evacuation, removing it from the workpiece directly into the centralized extraction system of the CNC machine.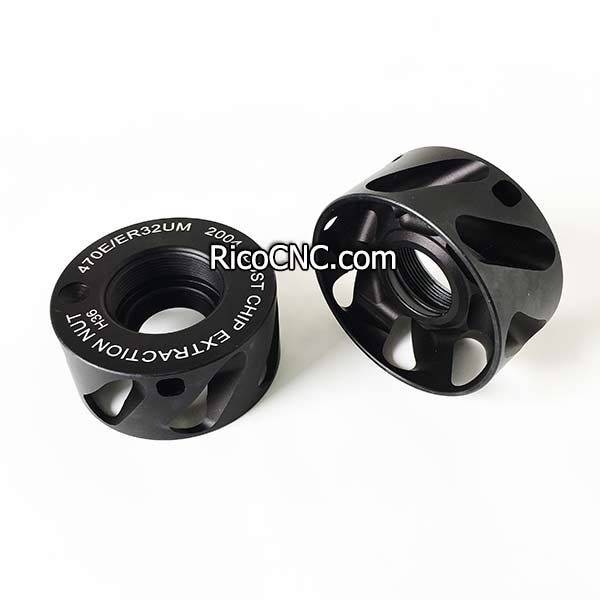 CNC Router Dust Extraction Nut Features:
1, Made in light-alloy
2, Special surface hardening treatment for longer performance and coating against wear and corrosion
3, Maximum speed rotation up to 24,000 RPM.
4, Balanced at G2.5
5, M 40x1.5
6, ER32 dust extraction nut weight 184g
7, Size: ER25, ER32, ER40, SYOZ25 are available
8, All dust extraction nut comes with a special spanner

Mounting CNC Router Dust Extracting Nuts:

1, Ensure you are using the CNC dust nut which corresponds to your spring collet. For example, an ER32 collet can only be used with an ER32 CNC twister nut.
2, Place the spring collet under the nut, applying light pressure, you will hear a slight "click" invoice.
3, Screw the chuck onto the dust extract nut slightly, by hand. Make sure the nut contact with the tool holder chuck smoothly.
4, Insert the bit into the spring collet from the front side.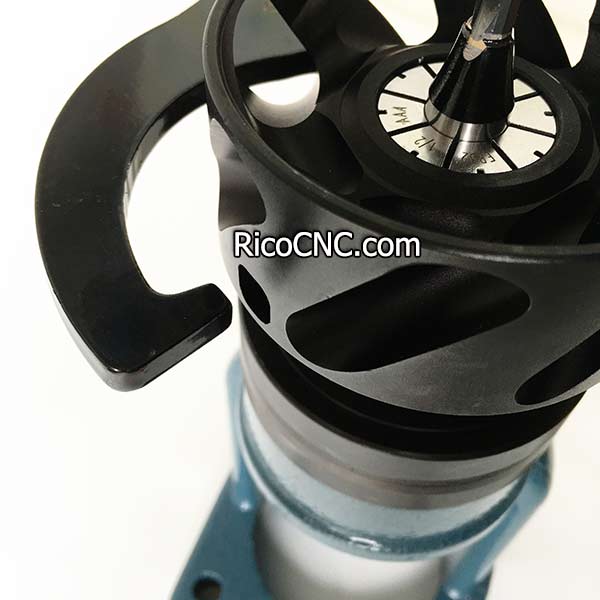 5, Place the assembly onto a tool holder tightening fixture locking stand. Use the specialized hook C wrench which comes with the nut to tighten.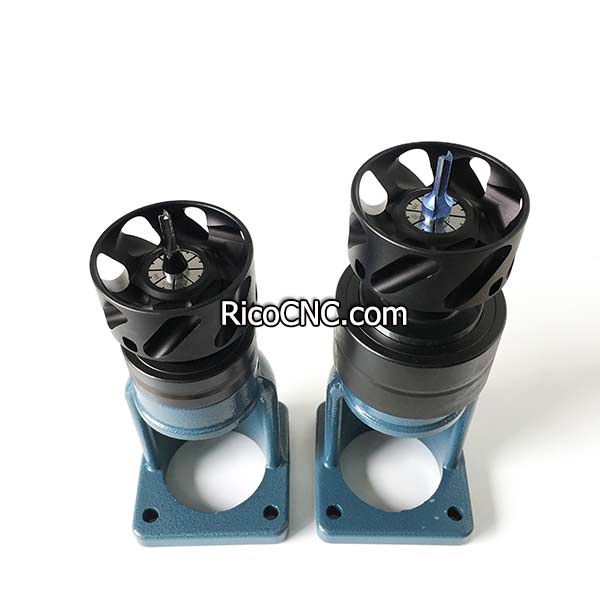 This cyclone dust extraction nut is particularly recommended for cutting materials such as particleboard, MDF, and laminated panels. Efficiently remove dust and chips in nested router operations, leading to improved finish quality, tool performance and ultimately, an improved work environment for the operator.
• Less dust Inhaled;
• Improved workplace safety;
• Less cost and time spent on daily maintenance;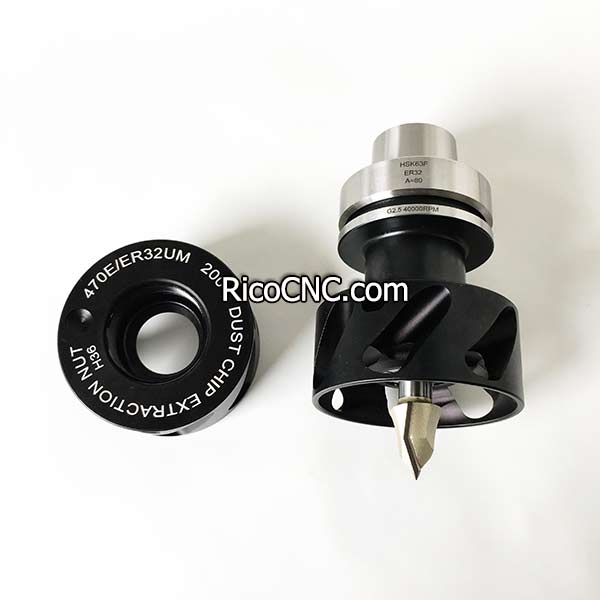 Dust extraction nut is an innovative system for dust and chips suction during nesting and routing operations. Suitable for every CNC router and machining centers.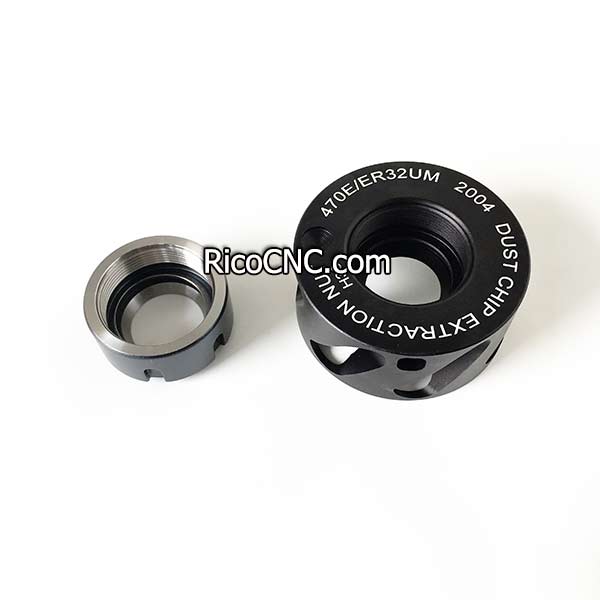 All you need to do is to switch your standard nut to a dust chip extracting twister nut!

RicoCNC supplies a range of high quality CNC tools, welcome your inquiry!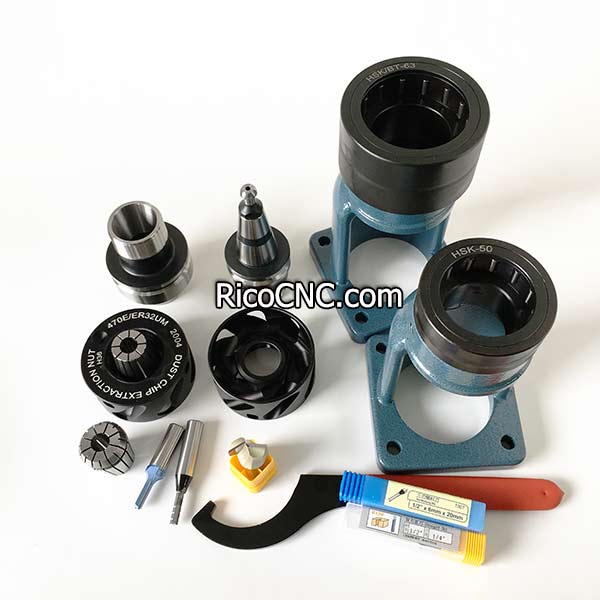 Contact Us