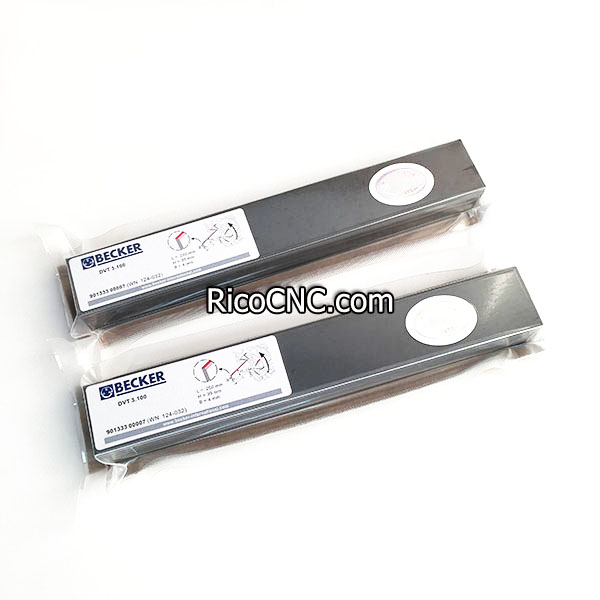 Genuine Original Becker Carbon Blade Vanes Set WN124-032 Graphite Vane 90133300007 for Becker vacuum pumps DVT3.100

This WN124-032 replacement carbon vane is fit for Becker vacuum pumps. It is Becker original set of vanes 90133300007, suitable for DVT 3.100 Becker Pumps. This set includes 7 pcs high quality and long-lasting vanes, which are made of carbon. It is a direct replacement for Becker vane part number 90133300007. These vanes are engineered specifically for Becker Rotary Vane Pumps.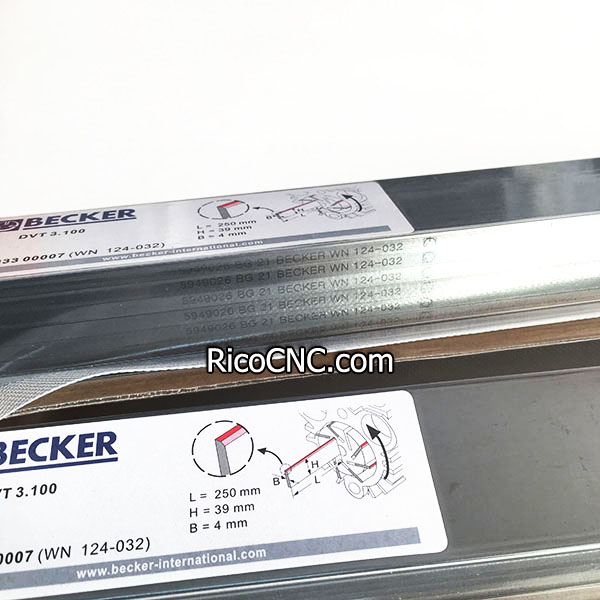 Carbon vanes are used on the vacuum pump, such as BECKER, Rietschle, Orion, Gast vacuum pump, etc. The vacuum pump vanes are used for dry-running vacuum pumps and compressors. They are subject to wear and need to be replaced according to the operation manual. Keep a kit on the shelf to ensure you have all the components on hand for regularly scheduled maintenance.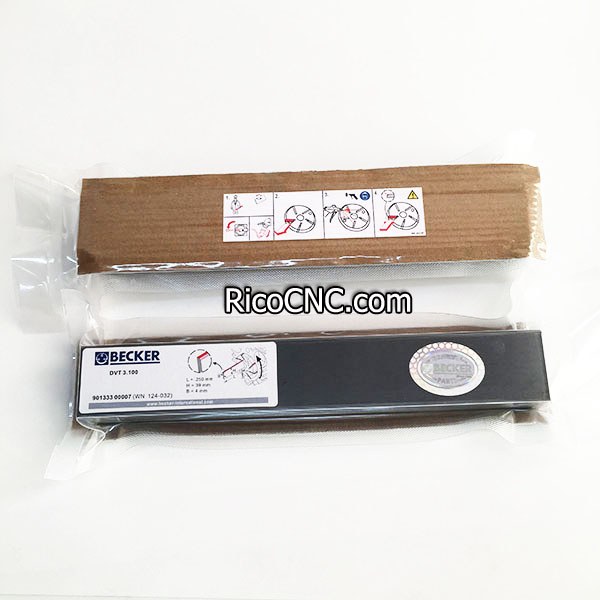 Becker vacuum pump carbon vanes 90133300007 Specification:
Brand: Becker
Condition: 100% New
OEM Part No.: 90133300007
Vane dimension (L*W*H) mm:
Suitable for Becker vacuum pump Model: DVT3.100
Vane Dimensions: Length-250 mm, Height- 39 mm, Width- 4 mm
NUMBER OF VANES / SET: 7
WN NUMBER: WN124-032
Vane material: Carbon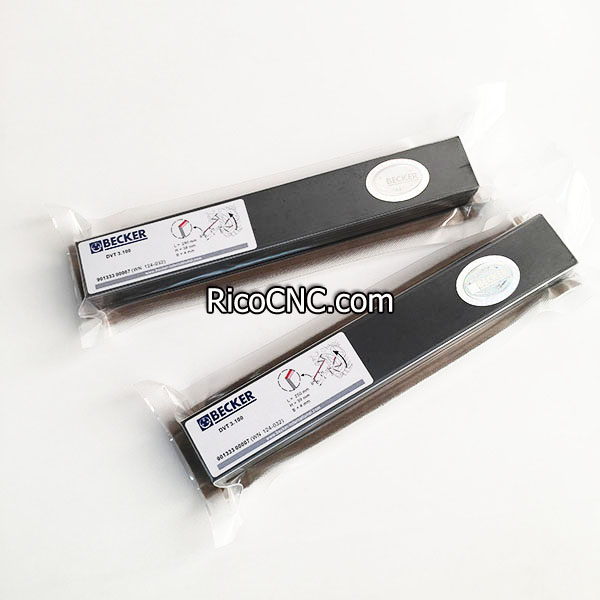 Becker Carbon Vanes 90133300008 | WN 124-032 and Becker pump vanes 90133300004 | WN 124-032 are also available.

Genuine Original Becker Carbon Vanes 90133300008 | WN 124-032
Brand: Becker
Dimensions: 250-39-4 mm
OEM Part No.: 90133300008
For Pump Model: DVT2.100
Vane Dimension (L*W*H) mm: 250-39-4
Set of 8 vanes repair Kit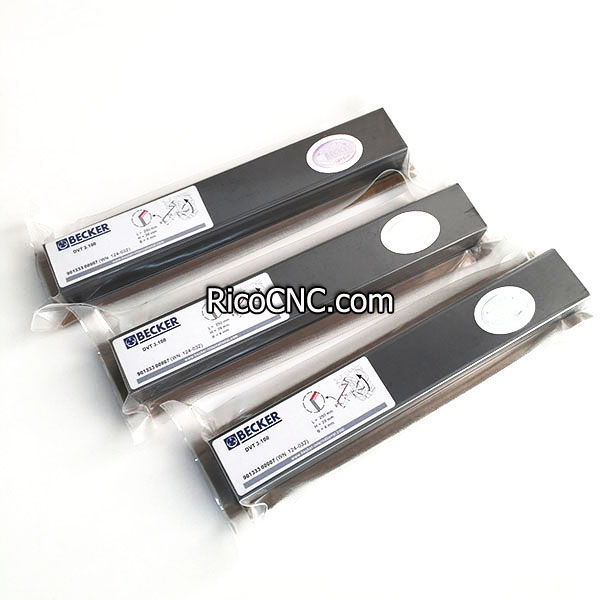 Becker genuine replacement vanes 90133300004 | WN 124-032
Brand: Becker
Dimensions: 250x39x4mm
OEM Part No.: 90133300004
For Becker Pump Model: KDT 2.100, KVT 2.100, KDT 3.100, KVT 3.100
Pack of 4 Pieces
Homag part number: 4-042-01-0092 (4042010092)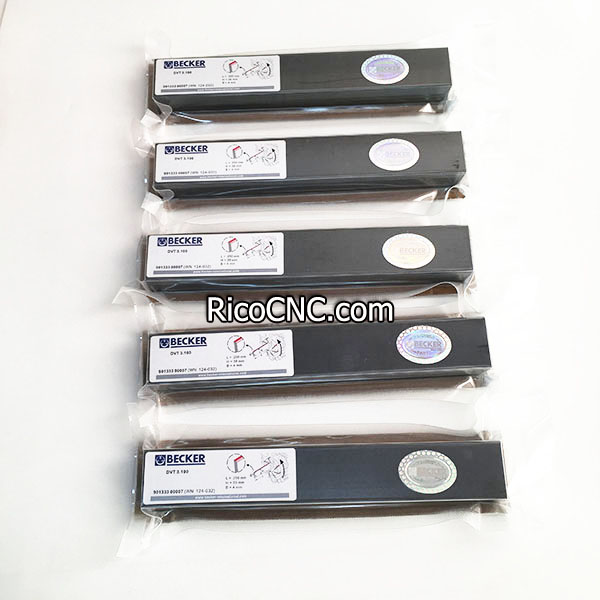 The carbon vanes are the vacuum pump's most important consumable part. Please choose Becker genuine vanes. Becker genuine Vacuum Pump Vanes will not wear or chip prematurely. The genuine vanes also possess the exact hardness and resin combination required to reduce friction and heat and in doing so increase the life of your Becker pump. Counterfeit vanes cannot dissipate heat which causes premature wear and cupping.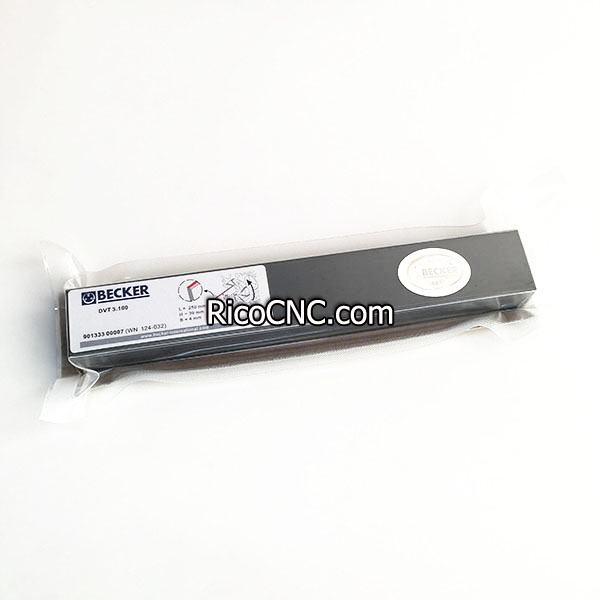 RicoCNC offers a range of Becker original vanes. We guarantee 100% genuine. Please rest assured to purchase.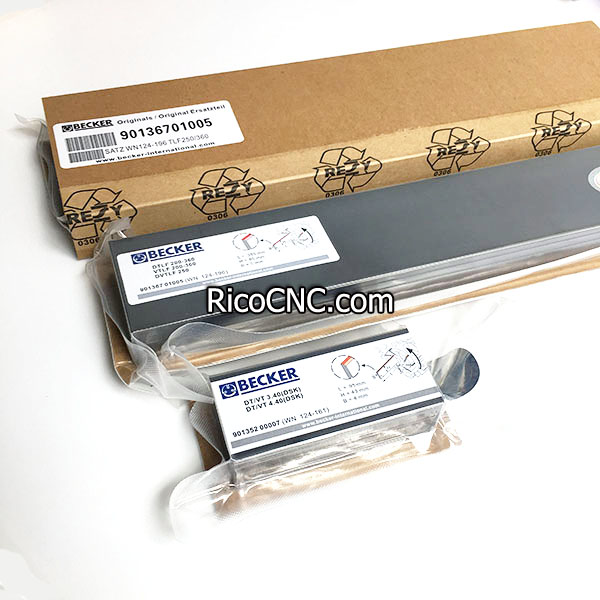 RicoCNC supplies CNC machine parts for Biesse, SCM, Homag, Weeke, and other common brands in CNC industries. We've built our reputation on high-quality products and exceptional service in over 100 countries

For more information, please visit the website at www.ricocnc.com


Contact Us